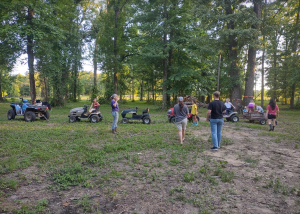 Oh how things have changed since November 2020!!!!
We are officially up and running!! Since our beginning, we have had 18 events, 7 of those in the HH Woods! The main building is up with the kitchen and office/changing station complete. The mercantile (with all the gifts for our guests) is complete.
We are working hard to get a permanent restroom/changing station for our guests. We are still using borrowed porta potties, but most of our guests don't mind! (A huge thank you to Ford Septic (Clint and Trish) and Jotts rentals (Chris Stuckey)
Since our humble beginnings in 2014 (15 guests and 100 volunteers). we have been blessed beyond measure! At our largest, before Covid, we had around 1700 people. Now, that we have moved home, we have around 500 four times yearly!!!
Original blog post 11/30/2020
It has been months since my last update. I must apologize! As you can tell, we had to cancel our October event, as well as the spring. Can you believe it has been over a year since our last Playday!!! (*****If you would like to attend a small event in the future, please send me a message from the "contact me" page. I will add your name to the list. Since we will have to limit guests, we will start at the top of the list and work our way down.)
So, we are not going to be defeated by this change, we will adapt. Our plans, going forward, are to create an area for smaller events. I will share the dream with you in the following paragraphs. This was the Facebook post announcing our plans:
***Changing with the times!! So, we are not going to have our "Big Fall Playday". Since circumstances require that we cancel our event, we are going to go a different direction to accomplish the same goal. We will reach smaller groups of people more frequently. We are in the planning stages for this change, and need some feedback from you, our guests, and volunteers. If you would be interested in attending a "mini" Playday, here at our place, send me a message, please. Or, if you would be interested in a few of us coming to your school or dayhab, let me know. We had a small gathering (trial run), in July, and other than the heat, it went very well!! We have a very peaceful place in the woods where we let people ride horses, play games, eat lunch, and get away from the craziness that is going on in the world. Hope and pray this finds you well and having a BLESSED day, and hope to hear from you soon. ***
In response to this post, we have many people wanting/needing what we have to offer, a getaway from the craziness. It feels "normal" when you are out in the woods, riding horses or playing games or just sitting at the picnic tables eating lunch and visiting with others. Oh, how we need peaceful normal.
Since this announcement, we have begun construction on the "Old West Town", out in our woods. The storage building (General Store/Mercantile) is completed, on the inside, and almost full. We still need to cover the shipping container with wood and build a front porch, but it is functional. We are starting the office and registration building (I think this should be the Sheriff's office). The kitchen, dining and restrooms will be next on our agenda. For now, we are using what we have, and no one seems to mind (my husband's smoker, picnic tables out in the open, and porta potties).
We have opened this area up for small groups to meet and have had a couple of "primitive" gatherings. What struck me as confirmation that we are on the right track, was a statement made by a little girl that came out for Wednesday night Bible study. She stopped, looked around, and simply said, "This is so peaceful!". That is exactly what we wanted to build, a peaceful place away from the chaos.
Please pray with us (and help, physically or financially, if you feel led) that we continue to reach the special and hurting people that we are meant to reach! I promise to keep you all updated more often.
In Christ's Love
Johnette
P.S. If you have creative ideas, the gift of carpentry or painting, please let us know. We are very open to ideas and help!
---
Johnette Poole